Pay Your Deposit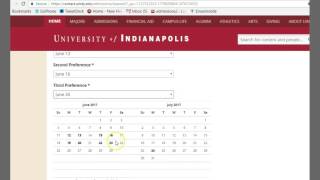 Fall 2017 Deposits
We are excited to have you join our campus community and are happy to announce that we are now accepting tuition and housing deposits for Fall 2017. You have two options when making your tuition and housing deposits:
Online form—please read the instructions first.
By mail—complete the Deposit and Registrations Day Selection Mail-in Form:

and mail it to:
University of Indianapolis
Office of Admissions
1400 East Hanna Ave
Indianapolis, IN USA 46227
Confirmation of Your Deposit & Registration Date
You will receive confirmation of your registration date once we receive your deposit payment, registration choices and housing preferences (online or paper form).
Alternate registration arrangements will be made for students who live outside the U.S. and cannot attend a registration day.
Housing Requests
Within 48 hours of when we receive your housing deposit, we will send you an e-mail with a link to our on-line residence hall selection process. Part of the residence hall selection also includes a meal plan choice. View our meal plans and dining options for more information.
Costs
Your deposits represent no additional cost to you and are 100% refundable until May 1, 2017. Your total cost of attendance, which you will receive upon completion of the financial aid process, will reflect a deduction from the 2016-17 actual charges of any scholarships, grants, loans, or financial aid you receive.
2017-18 costs
Tuition
Room & Board
Meal Plans
International Student cost information
Waitlists
Keep in mind enrollment for advised and contingent admits is limited and you could be subject to an enrollment wait list should your deposit be received after the established limit is reached. Please contact us at admissions@uindy.edu or 1-866-421-7173 with any further questions or concerns.
Set Up Your My UIndy Account
How to set up your My UIndy Account:
A My UIndy account can be activated after a tuition deposit has been paid. Please activate your account at the following web-site: http://accounts.uindy.edu.
You must use the same information that you submitted on the application.
Only your city and state are needed, not your address. Students living outside the U.S. do not need to enter a state or telephone number.
Please create a password that is between 5 and 10 characters long.
Please use a combination of letters, numbers, and capitalization to create a password.
Once you pay your deposit you can access your My UIndy account. Your My UIndy account gives you access to the following services and benefits at UIndy: My UIndy, email account, ACE online learning system, online library resources, computer labs, software discounts, "locker" space for online file storage and network access.
Activating your My UIndy account is very important because all official University email will be sent to this account. This includes notices from instructors, the Registrar's office, Financial Aid, Accounting, as well as future e-bill statements for tuition payment.
Please set up your account soon. Check it often by visiting http://my.uindy.edu, logging in, and clicking the email icon on the upper right.