Alumni Award Winners
Community leaders, philanthropists, and scholars were among the honorees when UIndy presented its 2017 Alumni Awards. The annual Alumni Honors & Recognition Banquet took place during Homecoming Week in September. This year's awards and recipients are:
Distinguished Alumnus Award
This award recognizes outstanding professional accomplishments or longtime service in a chosen occupation or profession.
Larry Miller '62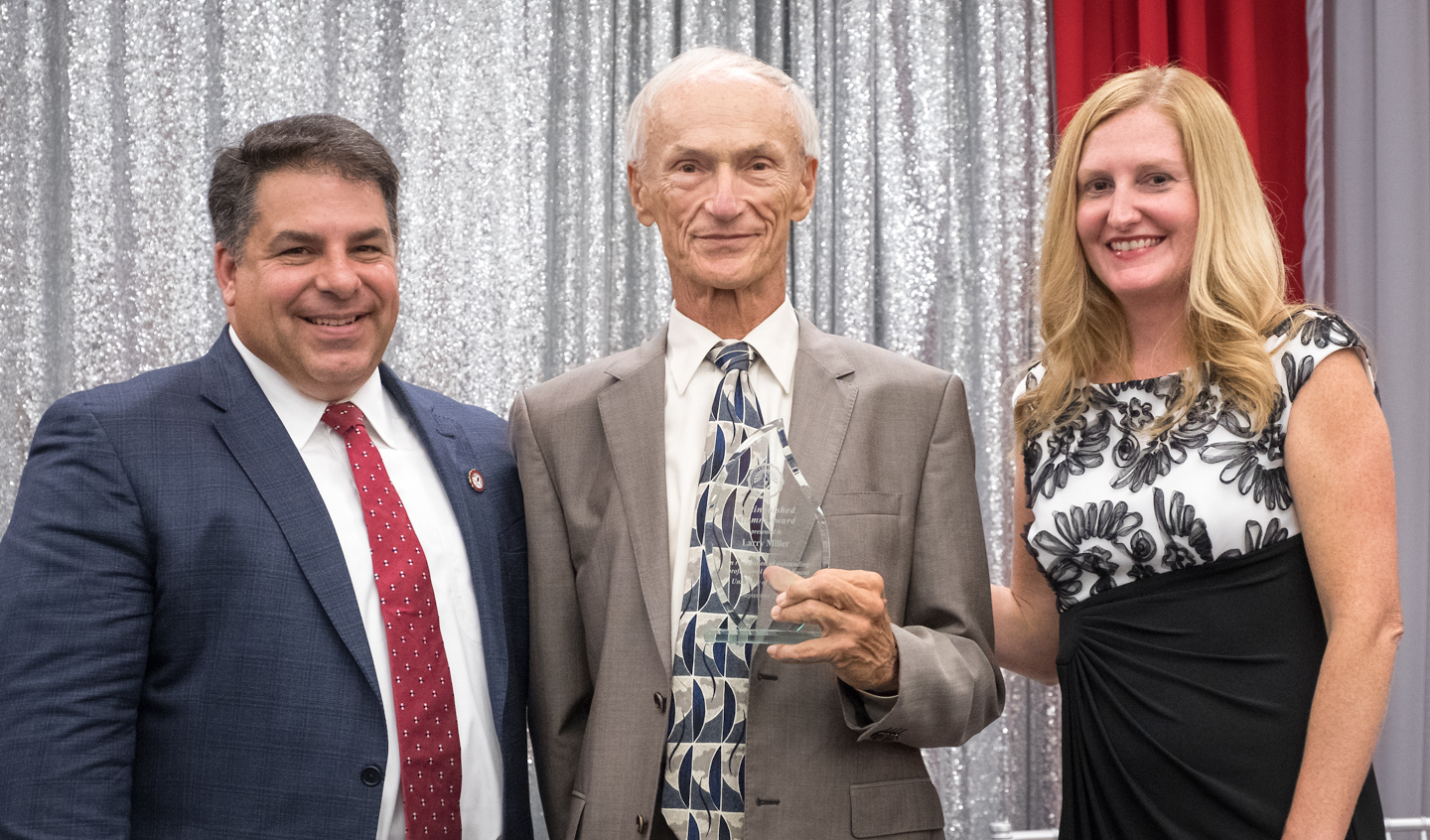 Larry graduated in 1962 with a degree in philosophy then went on to complete a PhD in mathematical logic. After teaching at Tulane University, he moved to California to work on computer systems and network issues at HewlettPackard. In 1985, he joined Lockheed Martin Space Systems Company. For over 20 years, Larry developed software for missiles to be used in the National Missile Defense System. As the senior staff software engineer, flight software manager, and certified principal engineer for flight software, he designed the program that allowed an interceptor missile to hit a strategic missile, "the result is like hitting a bullet with a bullet." Larry also sang in the San Francisco Symphony Chorus, a group that has performed at Carnegie Hall and won five Grammy Awards. He also makes time to read classic literature and attend Shakespeare festivals.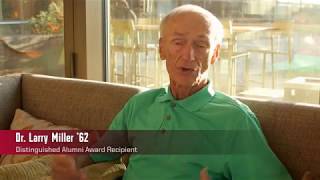 2016 Dr. James Hurrell '84
2014 Stephen Fry '87
2013 Don Ray '50
2012 Julie Fritz '92
2011 John Erwin '77
2010 Samuel Pieh '75
2009 Tim Martin '80 and Beenu Sikand '99
2008 Angela Grigsby Espada '83
2007 Stephen Arthur '76
2006 General Alfred Ahner '47
2005 Tom Hathaway '54
2004 Linda Dillman '76
2003 William Friend '71
2002 Sharon Wilson '65
2001 Rev. Jon Eckels '61 and John Foster '72
2000 Tom Zupancic '78
1999 no award presented
1998 Ralph Hiatt '32
1997 Carroll W. Moore '64
1996 James W. Magee '74
1995 Carl Breeding '55 and George Warheit '49
1994 George B. Keenan '49 and Charles W. Peckham, Sr. '52
1993 Joanna Baldwin Lantz '53 and Stanley Warren '59
1992 Henry E. Busch '34 and James R. East '53
1991 Raymond A. Lee '54
1990 Marlene J. O'Dell '56
1989 William A. Hayes '50
1988 Robert E. McBride '48 and Dwight L. Smith '40
1987 Arthur C. Core '37, Anna Dale Kek '28, and Mickey Powell '61
1986 E. Craig Brandenburg '30, William C. Green '56, and Florabelle Williams Willson '49
1985 Lloyd E. Hiatt '40
1984 John M. Thompson '29
1983 Harry R. Davidson '28
1982 Dale E. Robinson '52
1981 Lynn W. Turner '27
1980 William J. Raspberry '58
1979 Herman T. Spieth '26
1978 Paul W. Milhouse '32
1977 Sherman A. Cravens '42, John R. Knecht '42, and Leolin E. Long '27
1976 Eloise Hardison Banks '47, Seaborn W. Hillis '57, and Henry E. Martinez '51
1975 Roy V. Davis '25
1974 William R. Beneman '30 and Richard E. Emery '41
1973 Edna Miller '28
1972 J. Lynn Arbogast '25 and Donald G. Emery '41
1971 Moses R. Mahoi '50, Angus R. Nicoson '42, Dean M. Ransburg '54, and Henrietta Rider Showalter '41
1970 Ray R. Crowe '38
1969 Donald R. Carmony '29
1968 Paul Alexander '49
Distinguished Faculty/Staff Alumna Award
This award recognizes current faculty or staff who are alumni and who have demonstrated consistent dedication and superior service at the University.
Tamara Wolske '05
Tamara graduated in 2005 with a master's degree in Gerontology and currently serves as an Assistant Professor and Director of Academic Programs in the Center for Aging & Community. She serves as the Chapter Representative for the Delta Mu Chapter of Sigma Phi Omega, the national honor and professional society in gerontology in higher education with an emphasis on education and service. Additionally, she works as the Public Policy Representative for the University with the Association for Gerontology in Higher Education, serving as chair from 2012 to 2014. She also is the past-president and current board member for the Perry Senior Citizens Services in Perry Township.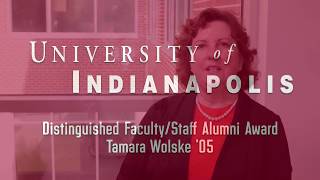 2016 Rebecca Cartledge '06
2014 Mark Weigand '78
2013 Dr. David Wantz '84
2011 Razin Bouzar '08
2010 Peter Noot '77
2009 Julie Gahimer '85
2008 Dr. Sue Willey '75
2007 Virginia Maher '78 '80
2006 Cheryl Lawson '66 '71
2005 Michelle Stoneburner '66
2004 Deborah Sachs '78
2003 David Huffman '64 and Linda S. Rodebaugh '74 '76
Education for Service Award
This award recognizes an alumnus or alumna whose life work has exemplified fulfillment of the philosophy underlying the UIndy motto, "Education for Service."
2016 Dr. Ronald Morris '86
2014 Dennis C. Thompson '73
Gene & Joanne Sease Award
Named in honor of former UIndy President Gene E. Sease and his wife, Joanne, this award recognizes couples who contribute their time, talent and treasure to the University.
Tom '64 and Mary Kay '65 Anthony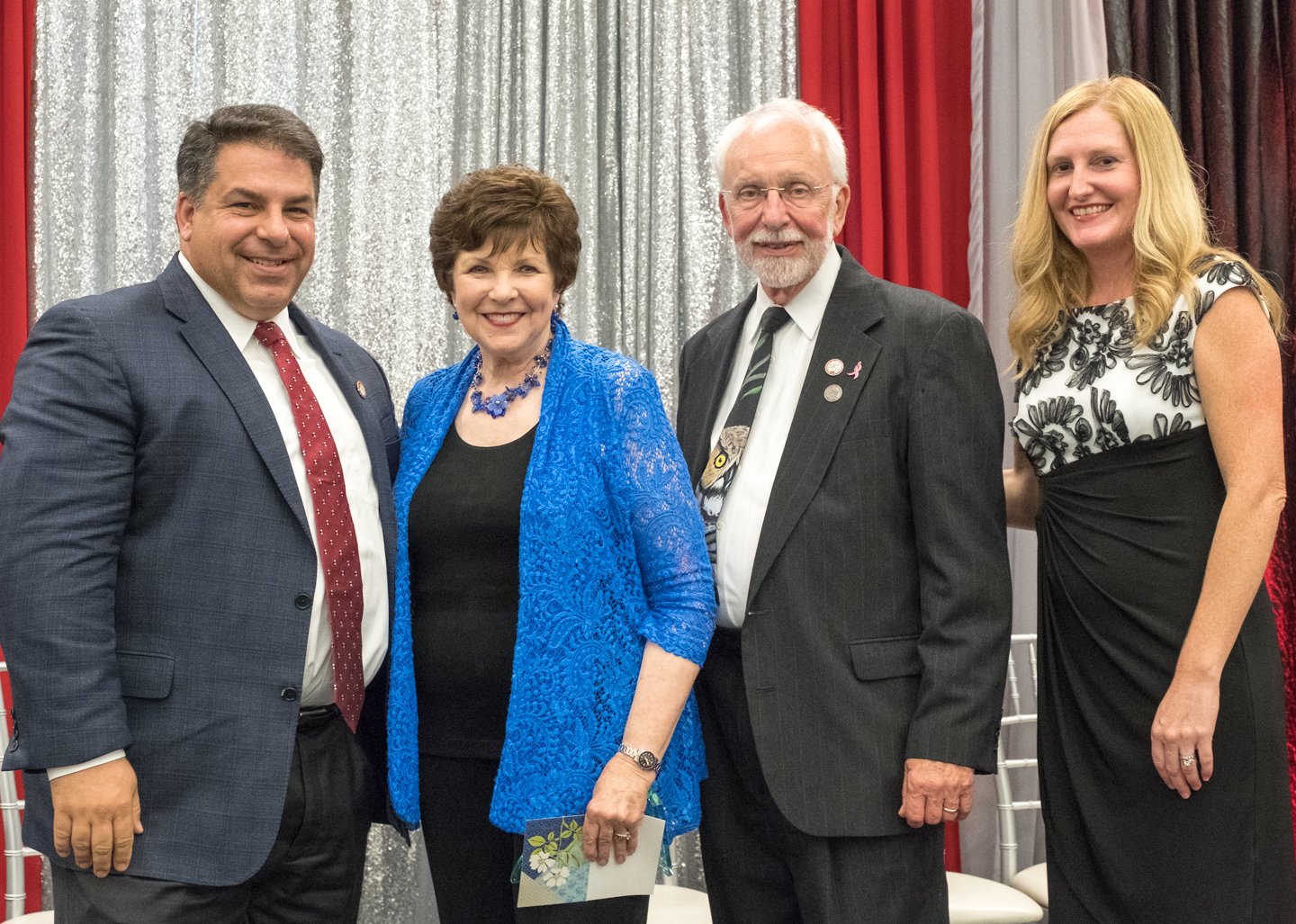 Tom graduated in 1964 with a degree in biology and worked as a State Farm agent for 41 years. He established the Meals on Wheels program in Greenwood and helped found the Center Grove Education Foundation. He served for 15 years on the Facilities Committee for Center Grove Community Schools and remains an active member of the Greenwood Kiwanis Club, where he was a former lieutenant governor for the Indiana District.
Mary Kay graduated in 1965 with a degree in English and taught high school English for 30 years and was named a Top 10 Indiana teacher in 2000. She serves on the board of the Alliance of the Indianapolis Museum of Art and the South Group board of the Indianapolis Symphony Orchestra. Also active in the Greenwood Kiwanis Club, she was named Kiwanian of the Year for the Indiana District in 2016.
Both Tom and Mary Kay served as presidents of the University Alumni Board of Directors and on the Board of Trustees. Together, they also serve hot meals to 90 people each week in soup kitchen at their church.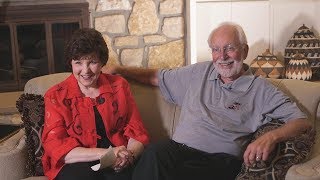 2016 Kendall '62 & Georgia '65 '72 Hottell
2014 Ron & Laura Strain and Ted & Anne Polk
2013 Scott and Jenny Fogo
2010 Orvall and Martha McCleary '49
2009 Dr. Robert '48 and Luella '48 McBride
2008 Cary '68 & Vicky Hanni
2007 George '42 and Dorothy '39 Jacobs
2006 Clyde '63 & Barbara Fields
2005 Stan '62 & Amy '58 Zent
2004 Walter '74 & Janette '75 Koon
2003 Steve '66 & Sarah Hiatt '69 Maple
2002 Keith '51 & Effie Buchanan Brown '54
2001 Kevin '74 & Nancy Tucker '75 Hanni
2000 Paul '32 & Mary Noblitt '31 Milhouse
1999 Don '29 & Mary Hiatt Carmony
1998 Jim '74 & Peg Magee
1997 Barry '76 & Paula Thornburg '76 Howard
1996 Ralph '43 & Esther Grose '63 Coddington
1995 Mike '60 & Jeanne Wade '74 Watkins
1994 Robert '98H & Louise Dragoo '50 Barnett
1993 Gene '60 & Carolyn France '60 Lausch
1992 William '63 & Sharon Kiesel
1991 Harvey '41 & Iris '98H Showalter
1990 Harold '95H & Ann Cory '48 Bretz
Honorary Alumni Award
This award recognizes and honors individuals who are not graduates of the University of Indianapolis but have demonstrated their commitment to the institution over a significant period of time.
Greg Ballard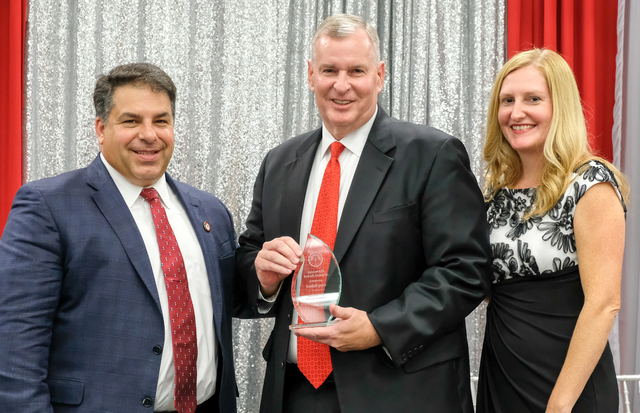 Greg served as the 48th Mayor of Indianapolis from 2008 through 2015. During his tenure, he was a strong advocate for the University of Indianapolis, delivering his 2014 State of the City address from the Christel DeHaan Fine Arts Center and headlining the 2015 Richard M. Fairbanks Symposium. At the completion of his second term in 2016, he joined the University community as a Visiting Fellow and has engaged students in a variety of ways including an ambitious project to create a sustainable energy plan for Indiana. He also organized a special screening of "The Burden," which brought filmmaker Roger Sorkin to campus, hosted 24 foreign journalists on campus during the election, and worked with WICR-FM students on election night. That collaboration earned them first place in the Broadcast Education Association's Festival of Media Arts competition in the radio newscast category.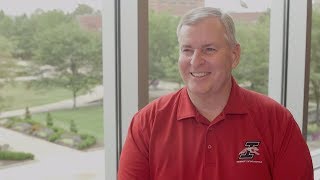 2016 Robert & Marjorie Begeman
2014 Maestro Raymond Leppard & Carolyn Coleman
2013 Yvonne Shaheen and Phyllis Webster
2012 Beverley &Bill Pitts and Bill Thompson
2010 Lisa Berger
2009 Deirdre Pettinga and Monica Woods
2008 Dr. Phylis Lan Lin
2007 Jan Knoop
2006 Marsha Dorsey
2005 Jerry & Carol Israel
2004 Jim Conner
2003 Father Don Quinn
2002 Matt Donovan
2001 Michael L. King
2000 Bob Burchfield
1999 Mary Ober, Paul Washington-Lacey, Iris Showalter, and Mary Ann Wills
1998 Benjamin Lantz, Jr., Mary Sue Lantz, and Robert Barnett
1997 Herbert W. Smith, Marjorie Anson Smith, and Herbert Cassel
1996 George Humbarger and Alice R. Friman
1995 Harold Bretz
1994 Robert Cramer
1993 Gerald G. Boyce
1992 Marga Maier, LeAlice Briggs, and William R. Gommel
1991 Claire Moore
1990 Terry Malone and Gleah Hiatt Peterson
1989 Joyce Cole and Frederick D. Hill
1987 Kenneth E. St. Clair, John T. Sutton, and John G. Swank
1986 Rex M. Joseph, Jr., Roland T. Nelson, and Zane G. Todd
1985 Herman H. Confer, J. Kenneth Forbes, and Allen B. Kellogg
1984 Ross Ludwig and Beverly Sims
1983 Bea Nicoson
1982 Kenneth Bordon
1981 Robert Brooker, Don B. Earnhart, Ted Polk, Gene Sease, Joanne D. Sease, Charles F. Stanton, and William R. Van Deman
1978 Lou Gerig
1977 Hilda Bruce
1975 Alonzo Nicodemus and Naomi Nicodemus
1971 Ben Copeland
1970 Wanda Stohry and Mary Streets
1969 Virgil Banner and Mabel I. Good
1968 Raymond M. Crawford and John Deever
1967 Kelso M. Reid
Distinguished Young Alumni
Recognizes and honors an alumnus and/or alumna of the University who, while still relatively young, has made outstanding contributions to his or her community.
Daniel Del Real '05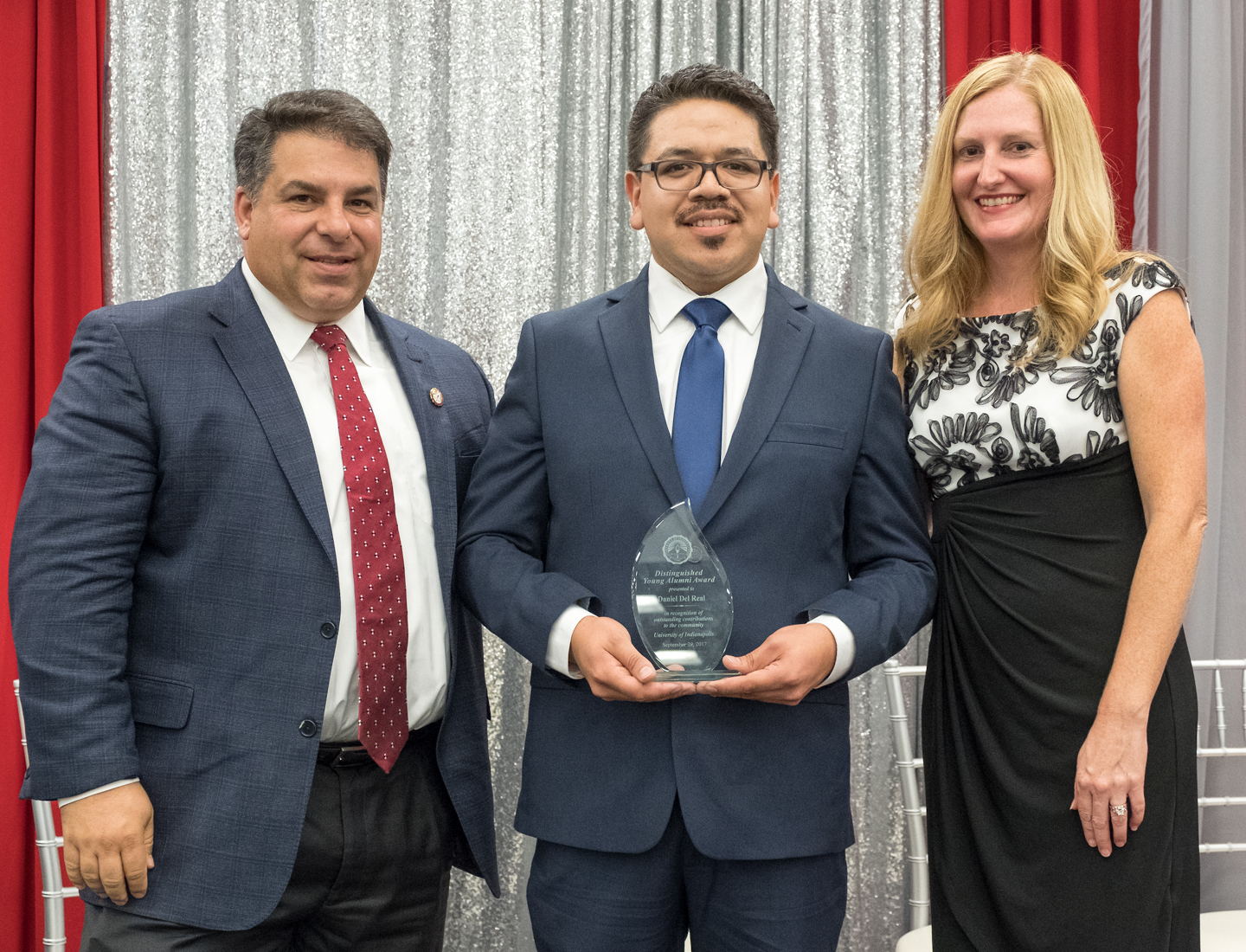 Daniel graduated in 2005 with a degree in visual communication design and currently has a studio in the International Marketplace Coalition in the Lafayette Square area. As one of the founding members of Nopal Cultural, Daniel has worked to make Indianapolis and surrounding cities more diverse by promoting Latino-American culture. His work has united Latinos and non-Latinos in the fields of visual art, music and literacy. He has led workshops for the Indiana State Museum, the Girl Scouts' Fiesta Camp, Two Thirds Studio, and has helped coordinate the Day of the Dead celebration at the Eiteljorg Museum. Artwork seen throughout the library this evening was designed by Daniel and created in partnership with current University of Indianapolis students.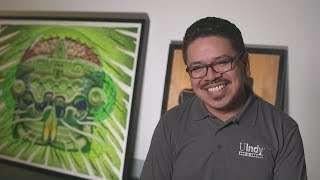 2016 Nikki Reed '07
2013 Megan Meadors '07 '09
2012 Nichole Wilson '02, '06
2011 Scott Lawrance '03, '10
2010 Andy Hammond '06
2009 Michael Howe '98
2008 Anita Kolkmeier Samuel '98
2007 Catina Broughton Barnett '03
2006 Wendy Walker Grant '96
2005 Elisa Bell '92
2004 Jim Self '91
2003 Daryl L. Caldwell '97
2002 Theodore Maple '96 and Jennifer Tackitt '98
Harvey M. Showalter Future Alumni Award
Recognizes one graduating student who embodies the spirit of the late Harvey M. Showalter '41.
2011 Sarah Huck '11
2010 Curtis Ward '10
2009 Ashley Fallos '09
2008 Erin Betlej '08
2007 Katherine Fries '07
2006 Lindy Wildman '06
2005 Molly Sheyka '05
2004 Matt Brock '04
2003 Carlie McClintic Cope '03
2002 Kelly L. Thompson '02
2001 Kristine Hanni '01