Master of Arts in Mental Health Counseling: Art Therapy Concentration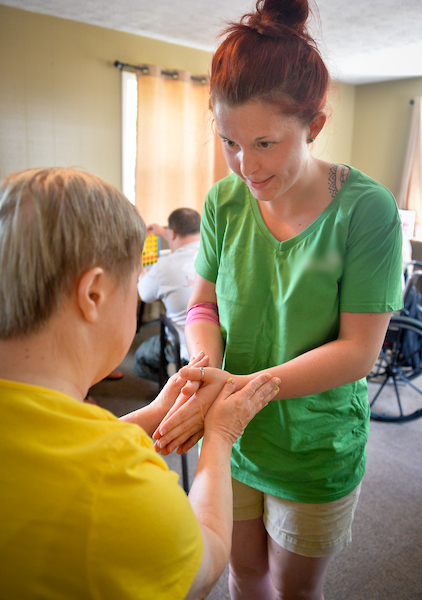 About the program
The art therapy concentration trains students to use the "creative process of art making to improve and enhance the physical, mental and emotional well-being of individuals of all ages" (www.arttherapy.org). The program is designed to allow students to pursue licensure as a mental health counselor and certification as an art therapist. The intention is to help artists and
students with pre-art therapy credentials transition into the exciting field of art therapy and mental health counseling, using their specific talents to help promote behavioral health.
Upon completion, students will not only receive their certificate in Art Therapy, but also their license in Mental Health Counseling.
Format
Classes run on a regular semester schedule, meeting face-to-face both days and evenings. Students will also need to complete practicum and an internship during the academic year.
Program length & details
The MA Mental Health Counseling - Art Therapy is 60 credit hours in length and can be completed in two years (6 semesters), including summers. Additionally, students will need to complete a 100-hour practicum field placement and a 900-hour internship. 300 hours must be spent working directly with patients in individual, group or family formats, and a minimum of 350 total client contact hours must be accumulated in practicum and/or internship.
Curriculum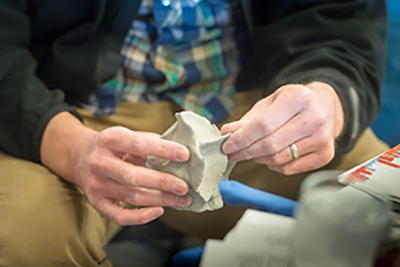 The MA in Mental Health Counseling- Art Therapy curriculum focuses on providing students with the knowledge and clinical practice necessary to assist in improving and restoring client functionality and personal sense of well-being. Art therapy requires knowledge of visual art (drawing, painting, ceramics, etc.) and the creative process, as well as human development and counseling theories and techniques.
The curriculum includes foundational coursework, as well as 18 hours in psychology or a related field. Completion of this 60-credit-hour program results in eligibility for Indiana state licensure as a mental health counselor.
The American Art Therapy Association prescribes the curriculum for accredited art therapy programs. To complete the MA in Art Therapy, students must complete:
24-semester-hours of art therapy content:
History and theory of art therapy

Techniques of practice in art therapy

Application of art therapy with people in different treatment settings

Group work

Art therapy assessment

Ethical and legal issues of art therapy practice

Standards of practice in art therapy

Cultural and social diversity

Thesis or culminating project
Psychopathology: PSY 565 Advanced Psychology

Human growth and development: PSY 524 Lifespan Psychology

Counseling and psychological theories: PSY 541 Foundation Skills for Psychotherapy

Cultural and social diversity: PSY 523 Social & Cultural Bases of Behavior

Assessment: PSY 510 Psychological Assessment

Research: PSY 505 Research Methods & Statistics

Career and lifestyle development: PSY 536 Career Development
Additional coursework:
Students will take a studio art course to maintain familiarity with the discipline of art-making, exploring the impact of art processes and materials through ongoing participation in creating art, while strengthening the connection to the creative process.
Completion of clinical work will also be required through a 100-hour practicum field placement and 900-hour internship.
When can I start?
New students begin in the fall semester each year. Applications for this program are due April 1.