Au Ho-nien Museum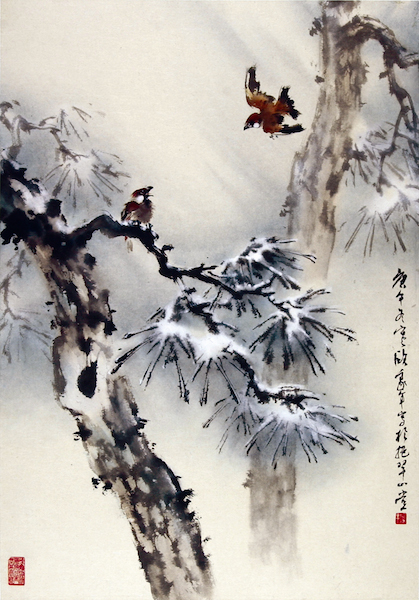 Located in the lower level of the Schwitzer Student Center, the Master Au Ho-nien Museum features 45 pieces of painting, poetry and calligraphy by this world-renowned artist who combines traditional Chinese painting with Western perspective, chiaroscuro and color schemes, often supplementing his naturalistic images with poetic inscriptions. The collection, donated to the University by the Au Ho-nien Cultural Foundation in Taiwan, is valued at more than $1 million. There is no admission charge to the museum, which is open daily.
---
About Master Au Ho-nien
Master Au Ho-nien, born in 1935 in China's southern province of Guangdong, is widely recognized as a leading contemporary artist in Chinese painting. He is Hwakang Professor of Art at the Chinese Culture University, Taipei, a prestigious post and Taiwan's highest accolade for an artist.
Exhibits
Master Au promotes the aesthetic traditions of Chinese culture through his numerous exhibitions and educational presentations. Since 1956, he has been invited to give one-man and joint art exhibits in some of the world's leading galleries and museums, including the National Museum of the Republic of China, Taiwan; Tokyo Central Museum of Art, Japan; Museum fur Kunsthandwerk, Germany; and Musee Cernushi in France.
Collections
Master Au's paintings have been collected by numerous museums around the world, including the British Museum in England; San Diego Museum and Asian Art Museum of San Francisco in the U.S.; Hong Kong Heritage Museum in Hong Kong; Taiwan Museum of Art in Taiwan; Musee Cernuschi in France, and National China Museum in Beijing, China.
Accomplishments and Awards
Master Au became a Fellow of the Chinese Academy in 1968 and Academician of the Chinese Academy in 1974. He received an honorary doctor of philosophy degree from Wonkwang University, Korea, in 1994, and an honorary doctor of arts degree from the University of Indianapolis in 1995. He has received the Global Overseas Chinese Culture Award, Golden Goblet Award of Chinese Art from the Chinese Art Association, and International Communication Service Award from the Government Information Office in Taiwan, and participated with honors in the French National Society of Fine Arts Biennial Exhibition at the Grand Palais Museum of Paris.