Art & Design Facilities
Christel DeHaan Fine Arts Center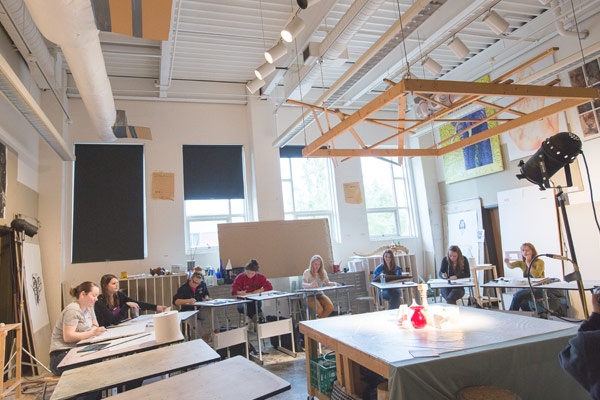 The Christel DeHaan Fine Arts Center (CDFAC) building houses studios for art and computer labs for design. Large, north-facing windows provide natural light for the studios and hallways have large display panels to showcase current student work. The Department of Art & Design utilizes several studios and labs to foster each major and concentration in the art and design program.
VCD computer lab/studio
Advanced VCD studio
Multimedia/video computer lab/studio
Drawing/painting studio
Advanced fine art studio
Ceramic studio
Fine art/commercial photo studio
Foundation studio
Woodshop
Lecture hall
Each of these studios and computer labs provide students the workspace and the updated equipment to complete projects—from visual communication design to studio art. In addition to the studios is a large lecture hall for art history courses and guest artist lectures. Our facilities are open 24 hours, giving you the ability to work on your projects any time you want. Creativity often comes in waves, and being able to work when inspiration strikes is an important part of being an artist.
Art galleries
The Christel DeHaan Fine Arts Center Gallery and the Schwitzer Gallery display several exhibits throughout the year. The CDFAC Gallery hosts six exhibitions of regional, national and international artists curated by Mark Ruschman, the Christel DeHaan Fine Arts Center gallery coordinator and the chief fine arts curator for the Indiana State Museum.
The Schwitzer Gallery hosts student thesis and portfolio exhibitions each semester.
Artwork across campus
The University of Indianapolis permanent collection has artwork displayed throughout many of the buildings on campus. Esch Hall showcases the work of Indiana artists. CDFAC has a variety of work from national and international known artists. The Schwitzer Student Center displays the senior thesis work of former undergraduate students. The Admissions Office houses the work of art and design alumni.
Fifth Third Bank Campus Sculpture Walk
This free outdoor art exhibition features sculptures by artists from around the country. Sculptures vary greatly in size, style and subject, and were chosen for inclusion through a grant provided by Fifth Third Bank.