Communication Internship & Career Opportunities
Where do UIndy students intern?
Communication students have interned for:
Bolsen Group
Borshoff
Great Lakes Valley Conference
NUVO
WISH-TV
WTHR
Indianapolis Colts
Indiana Pacers
Metonymy Media
Indianapolis Star
NCAA
Indianapolis Business Journal
UIndy's location in Indianapolis provides students with an enormous wealth of internship and career opportunities. Our professors maintain excellent relationships with local TV and radio stations, newspapers and magazines, and PR firms. Because of this, professors are a great aid to students looking for internships around the city.
PR firms throughout Indianapolis host students for internships. Many of our grads remain in Indy after graduating, working for companies like Borshoff and Bolsen Group.
Electronic media and sports information students find internships in local and state-wide TV and Radio broadcast stations.
Many local newspapers and magazines—like Nuvo and Indianapolis Monthly—offer internships for journalism students.
Our applied programs enable students to excel in their internships and impress potential employers.
Experience matters
Experience matters most of all in any communication industry. This is why we take an applied learning approach to all of our concentrations. The skills you develop in applied courses give you lots of relevant experience to put on your resume and help you make a smoother transition into your first professional position.
"Just jump in with both feet right away. UIndy offers so much in terms of real-life experience. It is never too early to take the classes in your major area and become a member of student management for an applied course. You will never get opportunities like this again."
Christi Larimer Eden
UIndy student management positions
Every year, students can apply for management positions within the Communication Department. These roles come with stipends, and the application process is competitive. Candidates go through a professional interview process, just as they would for any job in their field. Successful candidates gain management experience in their chosen careers. There are several positions in each of the following organizations:
The Reflector
Top Dog Communication
UIndy TV-5
WICR-FM
Check out the great internships UIndy students have had!
Will: Conan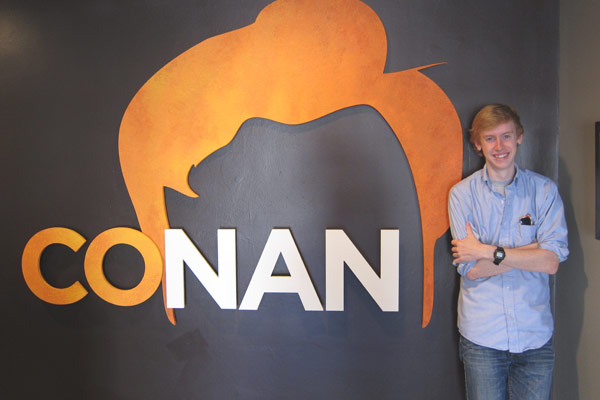 It's not every day that students land a summer internship for Conan O'Brien's TV show, "Conan," but if anyone knows the power of networking, it's recent communications graduate Will Schnabel. He first made contact with a talent coordinator in LA, who in turn introduced him to Jackie, the "Conan" stage manager. Jackie connected him to the department that handles internships. Will applied and was granted a phone interview. A few weeks later, he found out that he would be joining Team Coco.
Will was one of three interns placed on the monologue team; the position required him to take a quiz to land the job. Every morning, he looked at current events to see what might lead to jokes.
"I didn't realize how cool being selected as a monologue intern was until I got out there. It was a pretty cool feeling being able to write words that aired on the show. I was pretty lucky to acquire the position," Will says, "and I made the most of it. It afforded me a chance to meet the writers, which was fantastic. That's where I learned the most—watching the writers."
Besides working for Conan, Will continued to work as a talent escort for Jackie, the stage manager, for award shows such as the ESPYs and the Teen Choice Awards.
Ariana: Express Employment Professionals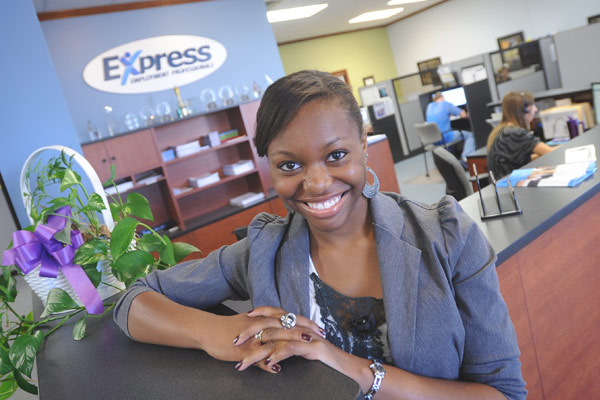 UIndy journalism and public relations graduate Ariana Gainer has plenty of advice to pass on to new students about the value of internships during college.
"...From experience, I can definitely say that doing one or more internships truly is beneficial—academically, professionally, even personally. Internships precipitate your growth and development."
One summer, she held two internships simultaneously – one as a marketing and recruiting intern at Express Employment Professions and the other as a public relations intern at Girl Scouts of Central Indiana.
"At Girl Scouts, I worked primarily with branding. I promoted them on social media and sent out more press releases than I can count. I was also able to plan events, which—along with an infinite supply of Girl Scout cookies—was my favorite part about the internship. At Express, I did similar tasks. I composed countless press releases, wrote regular Facebook updates, and did my best to stay within 140 characters on Twitter. I also had the opportunity to attend professional events and network with people in the industry that I am interested in. I never would have imagined myself working at an employment agency, but the many opportunities to further my career in journalism and public relations that it afforded me have been priceless."
Upon completion of her internships, both companies offered her permanent positions. Still juggling a full-time school load, she chose to accept the offer of marketing and recruiting assistant for Express Employment Professionals.
Currently, Ariana serves as development assistant at Christel House International, where she uses her communication skills to help the organization transform the lives of impoverished children around the world.
Schyler: Emmis Communications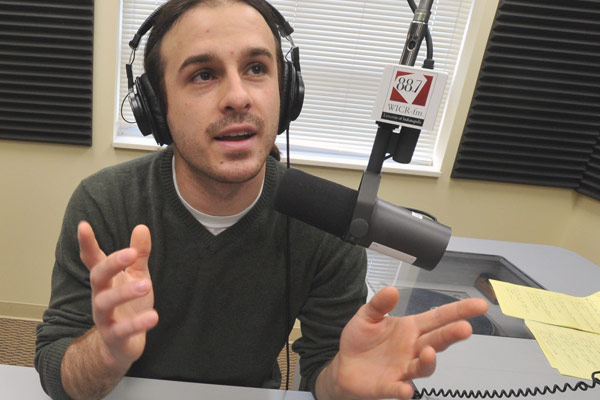 Communication graduate Schyler Wood was hired at Indianapolis-based media conglomerate Emmis Communications after completing his 2011 summer internship, and he's been working there ever since. During his early years at Emmis, he worked with four radio stations, broadcast at such events as the Brickyard 400, and traveled with the Colts as an engineer for their play-by-play coverage during every regular-season game. "I also did freelance work with ESPN for their radio-row broadcasts during the Super Bowl in Indianapolis," Schyler says.
So how did he land such a great opportunity? He credits the University's Communication Department with preparing him to work in the field, and especially the hands-on approach UIndy's Applied Radio program provides.
"All of this has been an amazing opportunity to take what I've learned at UIndy and use it in the field," he says. "UIndy helped me realize what I wanted to pursue as my career, and then gave me the tools to reach those goals."