Browse Department
UIndy now offers three new degrees in the exciting and fast-growing fields of Software Engineering, Mechanical Engineering and Industrial & Systems Engineering. UIndy is one of few schools in Indiana to offer these unique and innovative engineering programs, which will provide you with authentic design opportunities invigorated by a vast general education core that develops well-rounded professionals.
Why study engineering at UIndy?
The need for qualified engineering graduates will be even more critical as the business world continues to evolve into global, borderless markets. That's why UIndy's engineering faculty are dedicated to educating students with both core and highly specialized courses, providing them with the skills they need to succeed beyond the classroom. Our Project Based Learning (PBL) and Design Spine methods are a unique combination, working together to expand students' abilities through hands-on, real-life experience, providing them with the knowledge necessary to pursue a rewarding career.
UIndy's engineering programs emphasize:

Learn how to think like an entrenprenuer to find new way to tackle complex challenges.

Learn how to break down complex issues to their simplest form to evaluate, synthesize, observe and reflect as an intellectual guide to action.

Learn how to solve problems through modeling, data analytics, strategic thinking and risk assessment, which play a significant role in decision-making.

Learn how engineering projects have ethical implications on society and why engineers must consider issues like environmental impact or lean production methods.
How are UIndy's engineering programs different?
In addition to following a well-designed engineering curriculum, you'll also complete UIndy's general education core curriculum, which will give you a solid foundation in such areas as business writing, speaking and presenting, and social sciences. Because engineers work among a variety of people, mastering these skills is critical for succeeding in a global marketplace.
Program strengths
Small class sizes with well-qualified faculty committed to helping you reach your potential.
Strong general education core with emphasis on the following four core principles: creativity, critical thinking, problem solving, and social responsibility. Also, the core curriculum helps you develop essential business communication skills and other soft skills desired by employers.
Practical-experience opportunities early on to help hone your talents and acquaint you with the job market.
Unique "design spine" curriculum that emphasizes project-oriented courses to provide practical, hands-on engineering experience and group collaborations on real-world projects.
Job outlook for engineers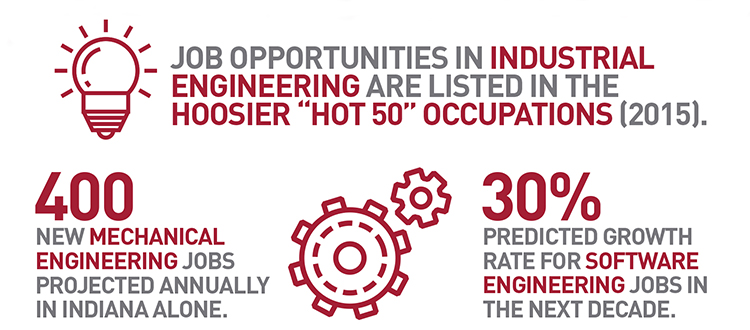 Industrial Engineering:
The Bureau of Labor Statistics predicts industrial & systems engineering jobs will grow at a rate of 6.5% over the next decade with an average salary in Indiana of $72,000 and $85,000 nationally.
Mechanical Engineering: According to the Bureau of Labor Statistics, mechanical engineering jobs are growing at a 5% per decade rate and is one of the largest fields in engineering, employing nearly 280,000. The average salary is $71,580 in Indiana and $83,060 nationally.
Software Engineering: According to the Bureau of Labor Statistics, the growth rate of software engineering is faster than the rate of computer hardware engineers because more innovation takes place with software than hardware. Additionally, software engineers work in a variety of companies and the average salary is $85,000 in Indiana and $106,000 nationally.
---
*Pending final approval from the Higher Learning Commission.