Browse Department
Become a teacher in less than 2 years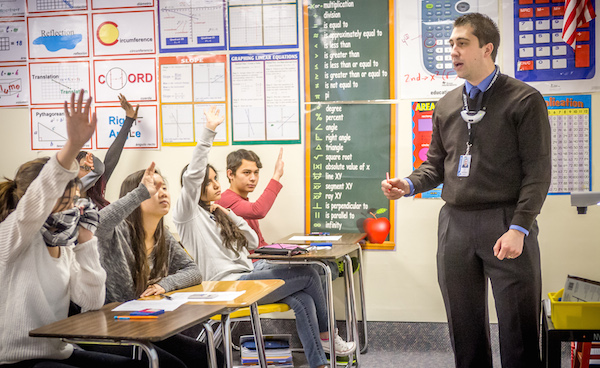 Maybe you always thought about teaching but decided to pursue another major in college. Becoming a teacher is still within your reach! No matter your age or stage in life, if you have an undergraduate degree from an accredited school in a content area taught in secondary schools, you can realize your dream of a rewarding teaching career in less than two years through UIndy's MAT program. Our program is taught by dedicated professors and licensed teachers who will partner with you and engage you in relevant and applicable pedagogy lessons. Learn more about our MAT program ►
Would I be a good fit?
Yes! While all MAT students exhibit a desire to teach and are motivated to share life-experiences and real-world prospective with young people, a great amount of diversity exists among them. Our students range in age from 23–60 and come from highly diverse backgrounds, including stand-up comedians, former professional athletes, retail managers, research biologists, military aircraft pilots, journalists, chemists, linguists and pastors.
Why teach?
According to the National Education Association, a historic change is taking place in America. While student enrollments are growing, the pool of qualified teachers is shrinking as many approach retirement. High-quality teachers are needed in both urban and rural communities. Those in high-need subject areas like special education, math and the sciences are especially in demand. And more male and minority teachers are essential, including right here in central Indiana. As a result, UIndy's MAT program affords a very high job placement rate upon graduation. See how we provide job support to our students and graduates ►
Framework for life
Our core concepts help guide your education and future career.