Browse Department
Become a Noyce Grant Scholar
Stipends are available to qualified Noyce Grant scholars to cover the cost of tuition for the Teach (STEM)³ program. For more information about being a Noyce Grant Scholar, read our news blog or contact Dr. Katherine Stickney or Deborah Sachs.
The University of Indianapolis has received a $1.2 million grant from the National Science Foundation's Robert Noyce Teacher Scholarship Program to support the growing local and national need for STEM educators.
Through the University's Teach (STEM)³ program, the Noyce grant will enhance collaboration between high-need, local schools to prepare and mentor 36 teacher candidates who commit to serve as high school STEM teachers after graduation. The grant—the first of its kind for the Teach (STEM)³ program—will help these candidates complete the intensive, one-year program without undue financial hardship.
Learn more about the Noyce Grant's impact on STEM education from Inside Indiana Business ►
Building tomorrow's STEM teachers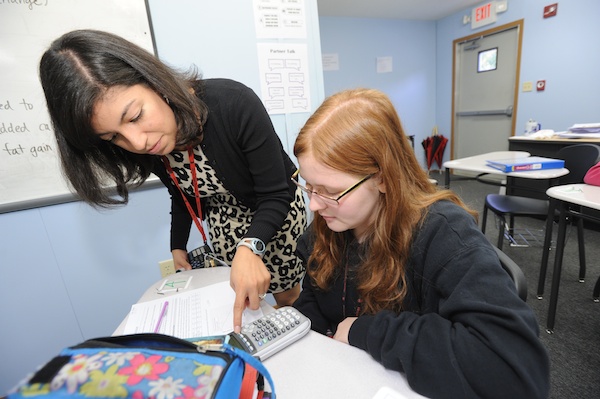 Teach (STEM)³ is UIndy's innovative clinical residency teacher preparation program for recent college graduates and career-changers with degrees in the STEM (science, technology, engineering, mathematics) field. This cutting-edge master's program requires the completion of 36 credit hours and will teach Noyce Grant Scholars how to become exceptional middle and secondary STEM teachers.
Teach (STEM)³ is divided into three main components: who, what, and where, each with their own sub-elements. These components and elements work together synergistically, providing Noyce Grant Scholars with authentic teaching and learning experiences they can bring into the classroom during residency—and beyond.
As can be seen below, faculty, mentors, and Noyce Grant Scholars make up the "who" aspect of Teach (STEM)³, while residency, courses, and mentorship create the "what," and partner districts, employers, and UIndy constitute the "where." While each of these categories is important individually, they all work together to help Noyce Grant Scholars successfully complete their residency, coursework, and mentoring requirements, ultimately leading them toward a bright future as a STEM educator.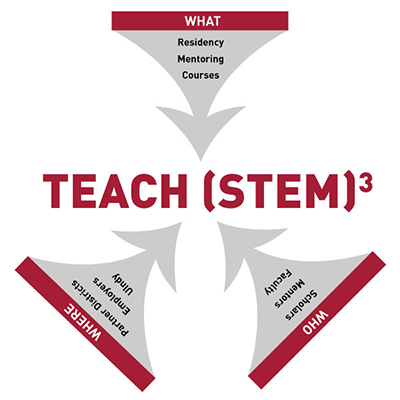 Mentoring for the future
Mentors are one of the most important components of the Teach (STEM)³ program, as they provide support for new teachers as they transition from scholars to educators. UIndy anticipates receiving external support for mentoring initiatives, however, while this is pending, the university will continue to support the development of its scholars through internal mentorship.
Once new teachers are employed, UIndy will provide mentorship, one-on-one coaching, and workshops to help them become highly impactful secondary STEM educators, working to encourage student engagement and achievement.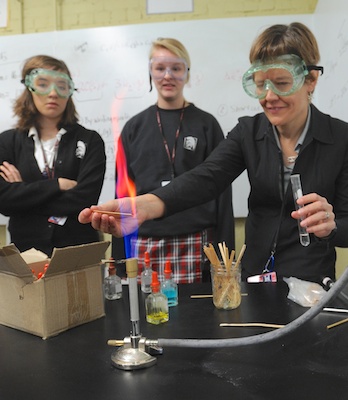 UIndy's curriculum is unique from other programs because it is presented in a project-based learning (PBL) format. This increases your retention of material through in-depth projects related to experiences you'll have as a teacher. You'll then be able to incorporate this method in your own classroom, which is critical as many Indiana school districts have implemented PBL into their curriculum. Through UIndy's program, you'll be immersed in PBL from day one, and will even develop your own PBL curriculum for classroom use.
Training the next generation of STEM workers
By 2018, Indiana is expected to have 118,000 STEM jobs to fill, most requiring some post-secondary education. Yet today, too few students are acquiring the STEM skills needed to become college- or career-ready. By becoming a STEM teacher, you can help prepare students for careers in these high-demand fields.