Master of Science in Athletic Training Program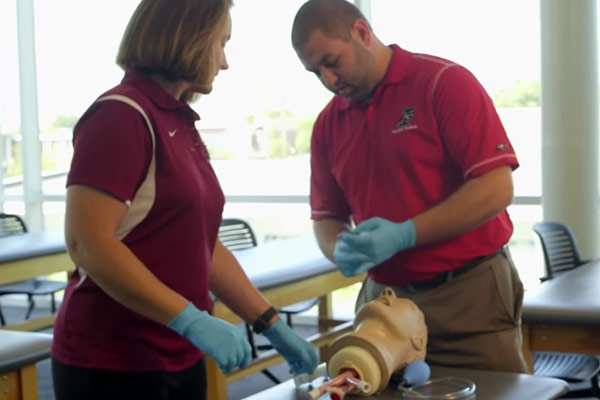 Daniel Welty and Dr. Christine Lauber highlight the clinical and hands-on classroom experiences available in UIndy's athletic training program.
Athletic trainers work with physicians to provide prevention, clinical diagnosis, emergency treatment, therapeutic care and rehabilitation of injuries and illnesses. They also prescribe exercise programs or make diet recommendations for better performance and nutrition. In the Master of Science in Athletic Training (MSAT) program at UIndy, you'll learn advanced, hands-on clinical skills at a rapid rate and integrate those skills in multiple clinical placements.
"Through athletic training I was able to work with different athletic teams at many different sites ranging from middle school to the college setting. Last fall I worked with the Ben Davis High School football team. It was a great learning experience and I was able to grow the skills that I learned in the classroom."
Kinsey Lengerich
Program strengths
Faculty work individually with students in the classroom and in clinical athletic training
Five clinical rotation semesters with different preceptors (or clinical instructors) and small student-to-preceptor ratios
Variety of clinical sites, diverse patient populations and easy access to Indianapolis medical systems
Networking and continued education opportunities through professional membership organizations
Format
The MSAT program is taught in a traditional, face-to-face format.
Program length and curriculum
The 65 credit-hour curriculum is completed over 2 years (6 semesters, including summers) and is a combination of classroom learning and clinical work.
Program costs
In addition to tuition and living expenses, students in the MSAT program incur additional costs, including:
Course fee: ATRG 500 – $80 for taping supplies
Course fee: ATRG 501 – $30 for Basic Life Support for the Healthcare Provider certification
National Athletic Trainer's Association (NATA) student membership: $75 annually
Transportation costs for off-campus clinical experiences: $300-$500 per semester
Criminal background check: Up to $50 annually
CPR/AED face shield: Up to $10
Tuberculosis skin test: $5 annually through the UIndy Health & Wellness Center
Clothing to meet dress code requirement: Variable
Fanny/sling pack and athletic training kit: Up to $200
Turning Point Technology Student Response Card ("clickers"): $15-$45
Immunization titers (as needed): Up to $250
See tuition and financial aid information ►
Certification
Graduates from the athletic training program are eligible to earn national certification by passing the Board of Certification exam, and to apply for Indiana state licensure.
When can I start?
Applications for the 2018 cohort opened on June 29, 2017. The deadline for priority consideration for the 2018 cohort is January 5, 2018. Applications will remain open until the cohort is filled.
Potential careers in athletic training
Athletic trainers practice in a variety of professional settings, including:
High Schools
Colleges
Physician offices
Sports performance and rehabilitation clinics
Professional sports teams
Military
Hospitals
Public safety
Performing arts
Industrial
"I learned clinical skills and life lessons that prepared me well for physical therapy school and helped establish professional relationships that led to my current position at Methodist Sports Medicine."
Katie Finke
Athletic training might be for you if:
You have a special interest in health care, sports medicine and fitness
You have, or are pursuing, a health-related undergraduate degree
You enjoy physical activity and lead a healthy lifestyle
You love working with people in an active and physically challenging environment