Exercise Science Major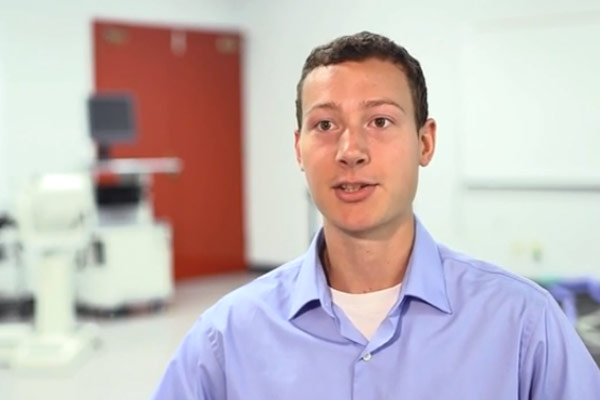 UIndy's Dr. Richard Robinson and Bryan Gezon, exercise science alum and PT doctoral student, perform testing and research on the benefits of battling ropes.

UIndy's exercise science program prepares you for positions in exercise testing and prescription for athletes—from "weekend warriors" to professionals—or in clinical settings, such as health clubs, corporate fitness facilities or cardiac rehabilitation centers. An exercise science degree also provides solid preparation for advanced education and certification in fields such as physical and occupational therapy, sports, medicine, human biology and other health sciences.
UIndy's program demonstrates academic excellence as the first in Indiana to become accredited by the Commission on Accreditation of Allied Health Education Programs.
Program strengths
High admittance rate to graduate programs in sports medicine, physical therapy, occupational therapy and more
Small class sizes allow students to get to know their professors and count on them for assistance
Emphasis on in-class and out-of-class research projects
Applied learning through courses in cardiovascular training, resistance training, exercise prescription and testing for the Healthy Diploma program
More than 80% (81.5% - 86.1%) of UIndy exercise science majors were rated by their internship supervisors as "exceptional" in the years 2013-2016
"I interned with the National Institute for Fitness and Sport (NIFS), which was a truly unique opportunity. An internship is one of the final requirements needed to obtain a bachelor's in exercise science, and although challenging, NIFS was a great experience to put on my resume."
Alex Bahney
Public Safety Medical
Exercise science students have interned or worked for:
National Institute of Fitness and Sports
Public Safety Medical Services
St. Vincent Sports Performance
Community Hospital Cardiopulmonary Rehabilitation
IU Health Sports Performance
St. Francis Hospital
OrthoIndy
Children's Theraplay
Acceleration Indiana
Potential careers in exercise science
Physical therapist
Occupational therapist
Personal trainer
Health-fitness specialist
Strength and conditioning specialist
"We know that when we get an intern from UIndy, we will receive someone who has a grasp of most of the principles and practices that will be used during their time here and we can get right to the application of these skills. We are continuing to find ways to expose their strengths which in turn will better our business and the overall experience our clients will have."
Jeremy Swinford
Owner/Trainer, Hyperformance Athletic Development
Preparation for graduate programs
An undergraduate major in exercise science is a smart option for students considering a master's degree in a health-related field, such as athletic training. With the Master of Science in Athletic Training Early Entry (3-2) program, you can earn an undergraduate degree in exercise science and a master's degree in athletic training in just five years.
Certification opportunities
Students graduating with a bachelor's degree in exercise science are eligible to sit for two important industry certifications.
Certified Exercise Physiologist (CE-P)
This certification from the American College of Sports Medicine certifies graduates to conduct health and fitness assessments, interpret results, develop exercise prescriptions, and apply behavioral and motivational strategies to apparently healthy individuals and individuals with medically controlled diseases and health conditions to support clients in adopting and maintaining healthy lifestyle behaviors.
Certified Strength and Conditioning Specialist (CSCS)
The National Strength and Conditioning Association certifies graduates for exercise testing and prescription of athletes.
---
Curriculum Guides
These curriculum guides outline the classes you'll need to take as an exercise science major. The general education curriculum guide lists your class options and requirements to fulfill UIndy's general education requirements, while the exercise science curriculum guide lists the classes needed to major in exercise science. You'll need to look at both guides to get a complete picture of what classes you'll take at UIndy.