Healthy Diploma Program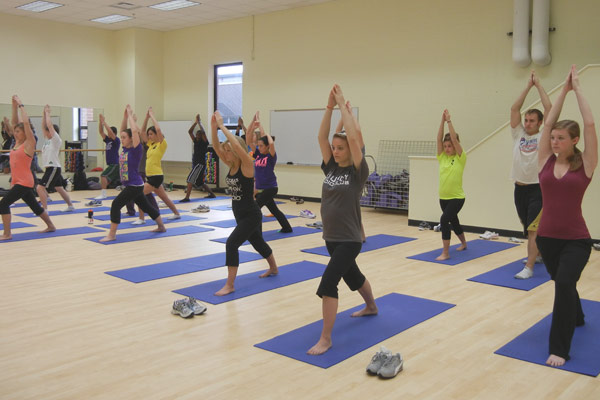 UIndy's nationally recognized Healthy Diploma™ program not only rewards you for maintaining a commitment to an active, healthy lifestyle, but also gives you an edge in the job market. Open to all freshmen and sophomores, the program consists of a 15-credit concentration to complement any degree, in which students will learn about all dimensions of health and wellness and the nation's leading health concerns, while setting long-term goals and documenting progress over time.
What's in it for me?
Endorsed by 50 organizations in Indianapolis and surrounding areas, your commitment and dedication to mastering day-to-day challenges will set you apart from other job applicants after graduation. But the benefits you will receive from regular physical activity and healthy eating are even greater – stress and anxiety management, weight control, heart health, increased energy and mental alertness, and much more. The Healthy Diploma program is designed to help you build healthy habits that you can carry with you for the rest of your life.
Personal coaching
Wellness coaches (UIndy faculty from kinesiology, athletic training, psychology and physical therapy departments) will meet with students twice a semester for 30-minute coaching sessions. During these sessions, coaches offer guidance and accountability for the students' health and wellness goals.
"The program helped my ability to handle stress tremendously. I did my final project on stress management, and I still use some of the strategies I discovered during that project...I saw the program as a way to demonstrate and incorporate my lifestyle into my schoolwork. If anything, it helped me stay motivated to carry on with my wellness habits that I already had in place."
Corey Nelson
What's in it for employers?
To employers, individuals who demonstrate healthy behaviors are much more likely to be better performers and contributors in the workplace, have fewer illnesses and cost them less in health care premiums over time.
In addition, if you're pursuing a career in a health-related field, you will demonstrate the effectiveness of exercise activities and that you're able to handle the demanding physical activity that your position may require. Employers will also notice that you're a living example of the knowledge you've gained from your education, and that you would be a credible source of advice for their clients or patients.
Curriculum
The Healthy Diploma general education core combines multidimensional wellness and nutrition with a personal health project. Directed elective options include physical activity courses such as yoga and cardio hip hop, and other wellness-related courses such as stress management, weight management and health behavior-related courses.
Additional program requirements
Students will also be required to complete annual health and fitness testing and other self-reported wellness assessments. The fitness and health tests are monitored by UIndy exercise science faculty in the Human Performance Lab and are personalized to meet the varying size and scope of students' goals for the program. Students will be able to track their results during each year via their personal My UIndy accounts.
How do I get started?
If you are an incoming freshman or a sophomore, you must apply to the program during the fall enrollment process, with letters of recommendation from faculty to indicate your commitment to achieving your health and wellness goals. For more information, please contact Lisa Hicks.