Kinesiology Facilities
UIndy features state-of-the-art facilities that provide kinesiology students with modern equipment for advanced testing, research and practical application. We also have a variety of athletic settings that house the university's sports and recreational activities and supports students in their goals for fitness, health and well-being.
Ruth Lilly Center for Health and Fitness
The Ruth Lilly Center for Health and Fitness houses offices and classroom space for the kinesiology department.
This modern facility also features an eight-lane, 25-yard pool with a separate 13-foot-deep diving well, three racquetball courts, a wrestling room, fitness center with cardio and resistance equipment, group exercise room, basketball courts and the athletic training room.
Nicoson Hall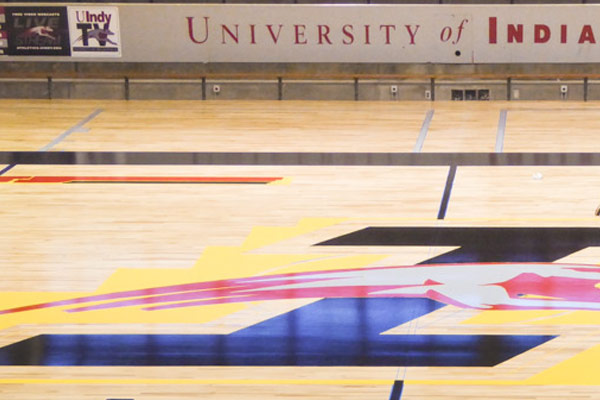 Adjacent to the Ruth Lilly Center is Nicoson Hall, the home of Greyhound basketball. It seats 4,000 and has two full-length cross-courts. The upper concourse is a 1/8th-mile indoor walking/jogging track. Nicoson Hall is considered to be one of the finest NCAA II gymnasiums in the Midwest. This court space is also used for kinesiology classes.
Key Stadium
Key Stadium, also seating 4,000, is the home of Greyhound football and track and field events. It is also used by the kinesiology department for outdoor field activities. Adjacent to Key Stadium are baseball and softball diamonds, practice fields for various activities, and an all-weather track surrounding the football field.
The Human Performance Lab
Exercise science laboratory classes and research are conducted in the recently expanded, 2300-square-foot Human Performance Laboratory. The unique configuration of the laboratory permits two activities to occur simultaneously, thus maximizing educational and research opportunities for students and faculty. Housed within the laboratory is the latest equipment for testing important aspects of human performance including cardiovascular fitness, muscular strength, metabolic rate, body composition and flexibility. In the summer of 2013, state-of-the art equipment for testing cardiovascular fitness (Cosmed Quark CPET) and muscular strength (Biodex System 4) was added.
Athletics & Recreation Center
The UIndy Athletics & Recreation Center (ARC) is an inflated indoor dome facility with 90,200 sq. ft. of space for sports teams and academic programs. It also houses fitness facilities for the entire campus community.
The ARC features a 68,000 sq. ft. training room, a competition-fit indoor track facility, baseball batting cages, an expanded weight room, a golf practice facility and locker rooms for football, men's and women's soccer, men's and women's track and field, softball and baseball. The facility also includes a 20,000 sq. ft. office space. The ARC also was the practice site for the Super Bowl XLVI champion New York Giants.
The Tennis Center
Located one mile off campus on National Avenue, the UIndy Tennis Center houses all tennis-related activities from the Greyhounds' intercollegiate teams to intramurals to a pro shop. It boasts seven indoor courts in an inflated dome. Aside from being the home for the tennis teams, UIndy also offers lessons and daily court time for students, faculty, staff, alumni and the community.