Sport Management Major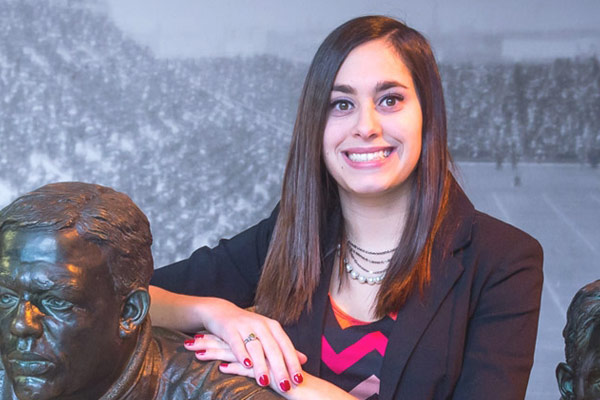 Learn how a UIndy sport management professor led student Niki Lobo to a marketing externship with the NCAA.
The sports industry in the U.S. generates more than $200 billion per year, and sports and sports-related businesses depend on a wide variety of professionals to carry out day-to-day operations. There's no better place for sport management majors than the COSMA-accredited UIndy program, located in the "Amateur Sports Capital of the World." You'll have the opportunity to work closely with top sports organizations in class projects and internships. In the past, students have helped the city host numerous sporting events, including the NCAA Final Four, Big Ten Basketball Championships, Olympic qualifying events and the Super Bowl.
Program strengths
Experiential learning – You will complete projects with sports businesses, boosting your resume.
Volunteer experience – Every year you can volunteer at major sporting events.
Networking – You will meet and learn from multiple professionals in the sports business each year.
Experienced faculty – All have previously worked in facility management, intercollegiate athletics,
the NCAA or high school athletics.
Hands/on experiential learning – we have completed class projects with the following organizations: Indiana Sports Corp, Indy Parks & Recreation, Indianapolis Colts, Indiana Pacers and more.
Volunteer experiences with NCAA Final Four's, Indy 500, Big Ten Football & Basketball Championships and the Super Bowl to name a few.
Connectedness to sports teams/properties.
First university in Indiana to be accredited by Commission on Sport Management Accreditation.
Yearly networking/volunteer opportunities – every year there is a NCAA Championship in town which offers opportunites for resume-building.
75+ sport organizations in the surrounding area which provide internship opportunities, networking opportunities, volunteer and resume-building opportunities.
"We produce 72 professional baseball games in five months. I'm responsible for everything from recruiting corporate sponsors to game day activities. I've learned to hone my management skills at UIndy. My professors got me to believe that I could do anything. And just as in sports, that's the foundation for success."
Joel Zawacki
Indianapolis Indians
Projects and research opportunities
During the semester, students complete a number of class projects in conjunction with community organizations.
Past projects have included:
Providing ideas to the Indianapolis Colts for increasing fan engagement through social media
Assisting the Indiana Sports Corporation in implementing the ISC Corporate Challenge
Surveying Pacers and Colts fans at games to understand the effectiveness of their sponsorships
Providing ideas to the NCAA for increasing attendance at championships
Sport management grads have interned or worked for:
Indiana Pacers
Indianapolis Colts
Dallas Cowboys
NCAA
USA Track & Field
USA Diving
Special Olympics Indiana
Indiana Ice
Indianapolis Motor Speedway
Indiana Sports Corporation
Indy Racing League
Great Lakes Valley Conference
Lucas Oil Stadium
Pepsi Coliseum
YMCA
Boys & Girls Club
Indy Parks & Recreation
Indiana High School Athletic Association
Potential careers in sport management
Intercollegiate athletics – athletic director, compliance
coordinator, facility manager, etc.
Professional sports – ticket sales, marketing, sponsorships, facilities, etc.
Recreational sports – sports program director, park manager,
youth sports manager, etc.
Event management – volunteer coordinator, event manager,
marketing, tickets
Non-profit organizations – sport/program management,
marketing, community relations, etc.
Public and media relations – for professional sports teams, intercollegiate athletics or sport facilities
Advertising and sales promotion – for private organizations,
non-profit organizations, professionals sports, etc.
Tricia Hensley Krummen received her Bachelor's and Master's degrees from UIndy with the goal of working at the NCAA. With the help of Uindy faculty, she secured an externship there. After graduation, she continued to network with past supervisors and is now a full time employee at the NCAA.
Audrey Becker took networking advice from UIndy faculty to heart and gained great experience at her internship. She has used that experience to enter into full time work for the Indiana Motorsports Association, Family Events and, most recently, the NFL Combine.
Joel Zawacki completed two successful internships with minor league baseball and the Pacers, where he proved himself and landed a job with the Indianapolis Indians right after graduation. He has worked his way up to the Assistant General Manager position in Corporate Sales & Marketing for the team.
"Joel Zawacki utilized his organizational skills to restructure our Sponsorship Sales Department into a Corporate Partnerships Department that has placed a higher level of importance on the needs of our corporate partners. The Indians have become more of a high energy, high delivery operation since Joel became the leader of the Corporate Partnerships Department."
Cal Burleson
VP & General Manager, Indianapolis Indians
---
Curriculum Guides
These curriculum guides outline the classes you'll need to take as a sport management major. The general education curriculum guide lists your class options and requirements to fulfill UIndy's general education requirements, while the sport management curriculum guide lists the classes needed to major in sport management. You'll need to look at both guides to get a complete picture of what classes you'll take at UIndy.
Accreditation

Accreditation protects the interests of students, their parents, the academic, and potential employers by ensuring that educational programs have attained a level that meets or exceeds standards that were developed by experts in the field. Accreditation also ensures that students demonstrate a certain set of skills and abilities, as reflected in the accreditation criteria. The Commission on Sport Management Accreditation (COSMA) offers the sport industry, students, and parents the assurance that graduates from accredited programs are of a high quality. Programs that have gone through the accreditation process are in a continuous cycle of improvement and collect and analyze data on student learning every year. Click below to learn more about our program outcomes, measurements, and efforts to continually improve student learning and job preparedness.
Notification of Student Achievement and Program-Level Outcomes ►