Homecoming is a reunion weekend celebrating you—both your student experiences and your career and life achievements since your college days. Come back to campus to relive favorite memories, relax and reconnect with UIndy. You'll find a lot of fun and a little something for everyone!
Plan to come back to UIndy for a week of events and activities, all leading up to the big game on Saturday—with UIndy Arts performances, special events, reunion gatherings, pep rallies, and more. Full Homecoming schedule ►
Homecoming T-shirts: SOLD OUT
Because of the unwavering spirit of UIndy students, alumni, faculty, and staff, UIndy Homecoming T-shirts have sold out. Thank you for your support of UIndy and the senior class gift. We look forward to continuing our tradition next year.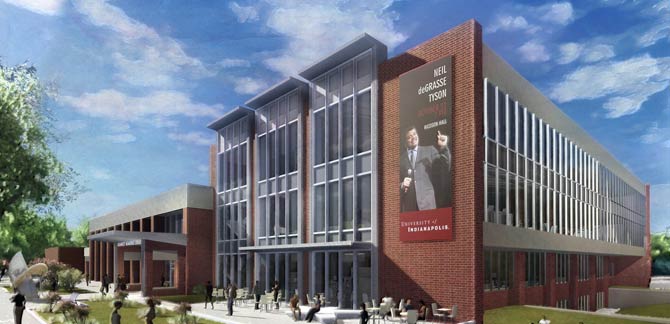 Founders Day Celebration & Library Reopening Ceremony
We'll honor our past with a special Founders Day presentation and celebrate our future with the library ceremony. Join us for the ribbon-cutting ceremony in front of Krannert Memorial Library, followed by tours and lunch ($10).
Saturday, Oct. 3, 11 a.m.

Krannert Memorial Library

Celebrate with us as we launch an exciting new comprehensive campaign on October 2 for the University of Indianapolis. We invite our entire UIndy community—alumni, students, faculty, staff, parents, and friends—to join President Robert L. Manuel, the Board of Trustees, and University leaders as we honor our past and transform our future.
Space is limited. Register online ►

#UIndyHC Selfie Spot Challenge
Join us as we celebrate UIndy's Homecoming with a fun photo challenge. As part of the challenge, UIndy students can visit a #UIndyHC Selfie Spot daily, snap a "selfie" photo that clearly shows them at the location, and share it on Instagram or Twitter using #UIndyHC. Details ►