Honors Curriculum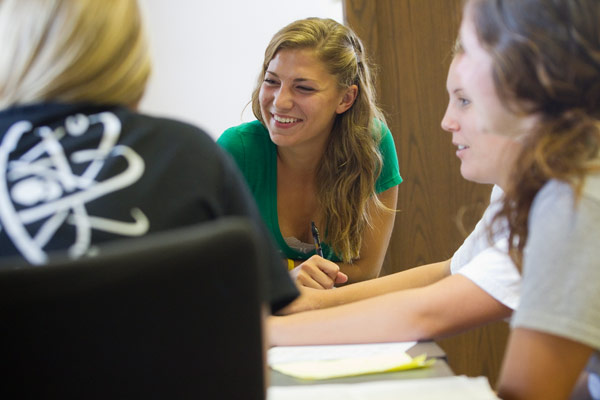 Consistent with the University's focus, the Honors curriculum encourages excellence through academics, creative expression, leadership and service. To earn an Honors degree, you must have an overall GPA of 3.3 or higher and complete 18.5 hours of Honors credits (at least 3 per academic year), with a B (3.0) or better in each course. Most Honors courses fulfill requirements in the general education core curriculum.
Credits earned through core liberal arts coursework are accrued as follows:

12–15 credits accumulated from Honors courses
.5 credits from Honors Proseminar (Honors Project proposal course)
3–6 credits from the Honors Project
Additional ways to accrue Honors College credit include the following:
Participation in Honors Service Learning
Travel abroad (approval required for credit)
Honors Option courses
If you are an Honors College student with at least 30 earned credit hours and a GPA of 3.3 or higher, you may also elect to take selected classes for Honors Option. Honors Option allows you to take a standard course from within your major or minor area of study and go beyond the typical scope or depth of topics covered. Interested students must complete a proposal of what will be done to make the class "honors" by developing original work that explore creative connections, the synthesis of ideas, in-depth analysis or creative expression.
Timeline
Here's a timeline of what you'll need to complete during your four years in the Honors program:
Year I
Year II
Year III
Year IV
3-6 credits from Honors courses
3-6 credits from Honors courses

Any remaining credits from Honors courses
Proseminar

Write and submit Honors Project proposal
May begin Honors Project once it is proposed

Honors Project (3-6 credits)
Examples of Honors courses
Here are some examples of Honors courses that are currently being offered or have been offered in the past:
Honors General Biology/Diversity of Life
Honors Western World Literature and Composition
Honors Cultural Anthropology
Artistic Works, Value and Criticism: Contemporary Philosophical Problems in the Fine Arts
Honors Arts: Connection & Relevance
Special Topics

Logic and Reasoning: The Academic Perspective of Paranormal Activity
Literature of the French Occupation
Fairy Tales
HON-490: Honors Project
The Honors Project is the capstone experience of the Honors College curriculum as it provides you full rein to pursue a topic related to your major, a special interest, creative endeavor, or community-based service in an in-depth and integrative manner. As an Honors student, you can expect your Honors Project to not only be the most focused and self-directed task in your undergraduate career, but also one of the most personally and professionally rewarding.
The process
When embarking on your project as a junior, professors and professional contacts will become your advisors in your efforts, whether it be a formal research paper, developing and evaluating a community service initiative, or a creative performance (e.g., art exhibit, musical composition, video presentation). At the project's completion, you will present your approved work at a formal presentation for the University community. Then, your project will be bound and housed in the permanent collection of the Krannert Memorial Library at the University of Indianapolis.
Project examples
Each Honors Project is unique and represents the full spectrum of scholarly, creative and professional endeavors. Check out some examples of projects that have been completed in recent years:
"The Treasures of Indianapolis: A Children's Book Promoting the Use of Imagination and Creativity" – by Emily Seaton & Jennifer Meadows
"Participating in the Veterans History Project: Recording the Oral Histories of America's Heroes in Wartime Military" – by Kira Naegeli
"Creative Activism in Human Trafficking" – by Kyle Ginder
"Journey to My Roots: Painting a Mural in El Salvador's Public School Environment in Collaboration with the Local Community" – by Kevin Moran de la O
"Wellness and Fitness Trail: A Service Project with a New Approach to Healthy Living" – by Patricia Miller & Loren Ashcroft
"Neural Espionage: A Study of Calcium Signaling in Glial Cells Grown in Two- and Three-Dimensional Culture Media" – by Helen Dainton