Services for Students with Disabilities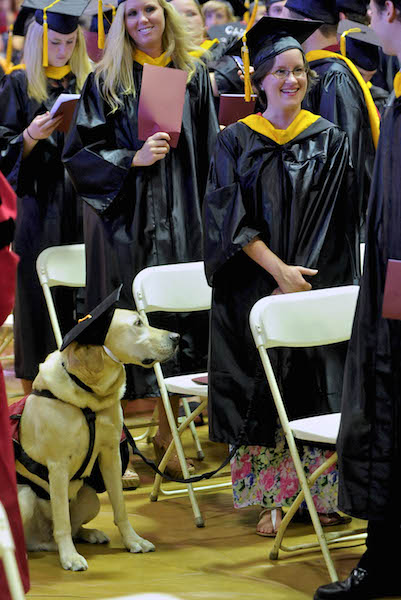 Services for Students with Disabilities ensures equal access to UIndy's many educational and co-curricular opportunities.

Through the Services for Students with Disabilities office, the University of Indianapolis ensures that all students have equal access to UIndy's many educational and co-curricular activities by making reasonable and appropriate accommodations according to the Americans with Disabilities Act.
SSD Goals
To enable students with disabilities to participate in and benefit from University programs and activities by providing services and accommodations
To ensure the UIndy environment is free of both physical barriers and barriers of attitude
To encourage students with disabilities to become as independent and self-reliant as possible and to inform students that it is their responsibility to secure services and accommodations
To provide information and consultation about specific disabilities to the entire UIndy community
Difference Between High School and College
The transition from high school to college is difficult for many students. Students with disabilities have to deal with the same issues all students face, but they also have added challenges in how support services are requested and arranged. Students must assume more responsibility and play a much more active role in obtaining disability services than they did in high school. High school services are geared more toward guaranteeing "success" for all students, while college services provide "access." A college student with a disability must become a self-advocate; he or she should be able to communicate what the disability is, how it impacts and limits major life activities, and identify and justify requested accommodations. This document, Legal Rights and Responsibilities for Students with Disabilities, outlines the differences between college and high school in responsibilities and laws regarding disability services.
Disability Accommodations
SSD will make every effort to provide reasonable and appropriate accommodations according to Sec. 504 and ADA guidelines. Students are responsible for making their needs and requests known to SSD and providing appropriate documentation to establish eligibility for services.

The University of Indianapolis does not provide personal attendants, individually prescribed devices, readers for personal use or study, or other personal devices or services. SSD can refer students to appropriate resources in the community.
Disability Testing & Evaluations
SSD does not diagnose disabilities or cover the cost for you to be evaluated. However, we can refer you to a list of local resources that provide evaluation services.
The BUILD Program
In addition to the accommodations offered through SSD, UIndy also offers the Baccalaureate for University of Indianapolis Learning Disabled, or BUILD. This program is a comprehensive, fee-for-service program designed to support UIndy students with specific learning disabilities.
What is the difference between SSD and BUILD services?
The ADA does not prohibit special or segregated programs designed just to meet the needs of students with disabilities. The BUILD program provides individualized support specifically for those students with a documented learning disorder. This is a voluntary program and students enrolled in BUILD pay additional fees for BUILD-specific services. BUILD students have met University admission requirements, are enrolled in regular programs at the University, receive necessary accommodations required by law and must meet the technical and academic standards set forth by individual departments.